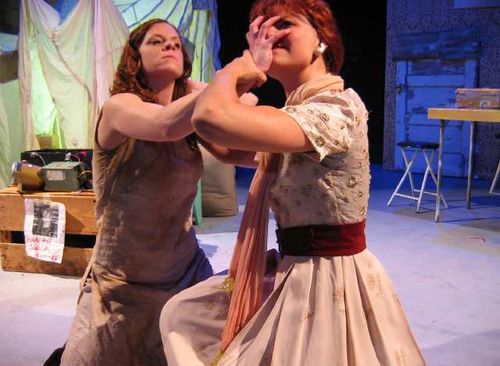 Critical Crossfire: Charles McNulty and Steven Leigh Morris on L.A. Theater
Here's a thoughtful exchange between two esteemed Los Angeles theatre critics. Of particular interest to Trade City was this quote from Stephen Leigh Morris:
I'd like to see more interaction between L.A.'s thriving art and music scenes and its theater culture. I wish artistic directors would break out of the straitjacket of the two-hour drama with 15-minute intermission. Why not produce a 45-minute piece in an art gallery or a marathon offering in a site-specific locale? What about more joint programs with dance companies and music groups?
Also of interest was the photo they used that showed a scene from Ghost Road Ensemble's Home Siege Home (with set by Maureen Weiss)