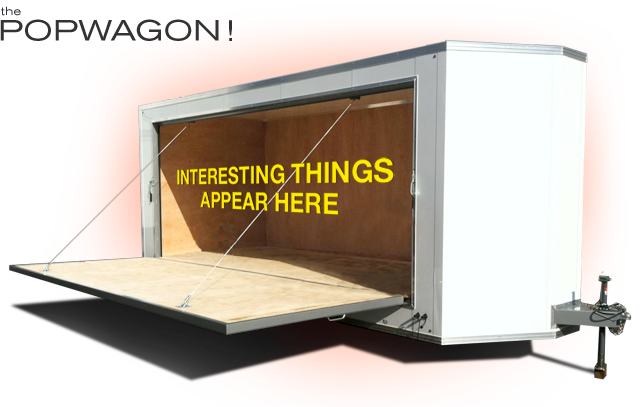 Our latest undertaking is a mobile theater and art space called The Popwagon. It's a custom, 20' trailer with a large side door that folds down to become an instant performance space. We'll be towing it around L.A., parking it near galleries, metro-rail stops, food trucks, office plazas, parks, and other unexpected places. We'll be featuring short-form theater pieces, musical acts, video projections, and interactive art installations. Our grand opening coincided with the launch of the Expo Line with a program of short musical and theatrical acts. From here on out, we'll be moving throughout the city, broadcasting our activities on Twitter and Facebook.
If you're a brilliant person interested in being a part of this curious endeavor, click here to tell us about yourself. We'll be needing lots of ideas and lots of help!

POPWAGON
FACT SHEET
LENGTH: 23′
STAGE LENGTH: 17'4″
WIDTH: 8′6″ closed / 15′9″ open
HEIGHT: 11'4″
WEIGHT: 3500 lbs
POWER: External generator (3500 watts max.)
EQUIPMENT: A full suite of lighting, sound and video equipment is available.
HOW IT WORKS: The side door is supported by two cables attached to winches and lowered using exterior winch controls. The door/floor can be used with the cables attached, or else three jacks can be placed in position to bear the weight when the cables are removed. The floor can also be lowered to ground level to act as a ramp.
SETUP TIME: Less than five minutes to park, detach the tow vehicle, and lower the stage.
BUILT: January 2012